Lococast Ohio Linuxfest 2011 Inteview: Michael Fischer
We have one last interview in the can from Ohio Linuxfest, and it's appropriate that we release this canned interview, since it's with Michael "Call me Fish" Fischer (get it? Canned? Fish? OK, I'll stop now). Fish presented a talk at Ohio Linuxfest entitled: "Managing a Computer Lab in a High School Environment". After the talk, Rick and Fish sat down to talk a bit about computers and education, and why Fish brought some of his students to Ohio Linuxfest.
Special thanks to Michael "Call me Fish" Fischer for taking the time to talk with us at Lococast.net.
Music:
Lococast Ohio Linuxfest 2011 Inteview: Aaron Toponce
"Sherman, set the way-back machine for two months ago, when the fall colors weren't sitting upon our lawn. September should be good, right around the time when Ohio Linuxfest was occurring. Yep, that should be good. Now, be a good boy and open the doors and watch the way-back machine while I listen to these interviews."
So, insert the standard disclaimer about not getting these up in time because [life got busy | things came up | cat ate my hard drive] and accept our humble apologies for not getting these interviews up sooner.
The next interview from our adventures at Ohio Linuxfest features Aaron Toponce. Aaron sat down to talk with Rick about Aaron's presentation at Ohio Linuxfest about Password Theory and Breaking Encrypted Filesystems. Suffice to say, you might not want to leave your machine unattended near any maids anytime soon.
Special thanks to Aaron Toponce for sitting down and talking with us at Ohio Linuxfest.
Music
Lococast takes to the road!
We're all signed up and ready to go. Lococast will be doing on location recording at Ohio Linuxfest again this year. Only this time, we're officially a sponsor and getting a nice shiny table in the main area to setup at. So we'll be working on getting some great clips of some of the great speakers and attendees of the conference.
The official conference is September 9-11. Friday has an array of events you can get involved with. The main thrust of the conference is on Saturday followed by a diversity workshop and LPI exames on Sunday. We'll be down there from some time Friday through Saturday and heading back Sunday.
Why should I go?
Did I mention this little open source conference holds over one thousand people?! Yep, it's a gathering alright. Did I mention there are four tracks and an Open Source Solutions stage? We like to call that, the content. Did I also mention that we're going to be there? You should just go.
But it's too late to go...
Nonsense, I actually just got my hotel room this very day. There's still time to get a reservation, and get your butt to Columbus.
Rick, it's got to be expensive to go then, surely!
Hogwash, if you register now, there's no cost to attend. However, if you're super awesome (and all Lococast listeners are of course) there's a supporter package for $65. You get fed and a t-shirt as part of that bundle. How could you go wrong?
I'm still not convinced Rick...
Then go check out the show we did last year. Oh that's right, we sat down with the president of System 76. How awesome is that!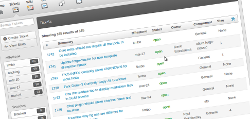 Pycon 2011 Sprints Interview: Mark Ramm from Sourceforge and Allura, the new forge
Lococast got a chance to sit down and ask Mark Ramm about the new open source project forge, Allura. They managed to get it out to the public right before PyCon and were working hard on it during the sprints at PyCon 2011. Find out what makes it unique and what they're up to.
Lococast on Location: PyCon 2011 Day 1
I'm down in Atl, GA for PyCon 2011. This is my report from Day 1 of events. Take a listen to see what's going on and we'll try to get some better notes up in the future. Big props to Craig for helping me get the audio out the next day.
Keep an eye out for reviews of day 2 & 3.
If you're down at PyCon, stop by during our open space time at 10am on Sunday where I'll be getting together with the guys of From Python Import Podcast and we'll be looking for some mini-interviews. Let the world know what they're missing by not attending PyCon.